! Comments: Bed and Breakfast Waynesville North Carolina, Maggie Valley Bed and Breakfast>
The Bed & Breakfast Association of Waynesville and Maggie Valley North Carolina invites you to the quiet side of the Smoky Mountains and to stay in one of our member inns.

Waynesville and Maggie Valley are centrally situated amidst the Smoky Mountains, the Blue Ridge Mountains, and the Pisgah National Forest. We are surrounded by mountains with at least 16 in excess of 6,000 feet and sporting names like Eaglenest, Lickstone, Wolfpen, and Lyn Lowry. Also in sight is Cold Mountain, recently made famous by a best selling book.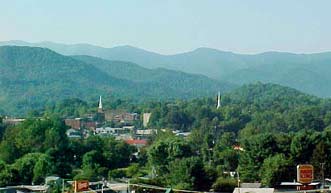 The county is almost completely encircled by the Blue Ridge Parkway, which begins in the Great Smoky Mountains National Park and winds its way northward through the Shenandoah Valley to northern Virginia. It affords the most splendid mountain vistas to be seen in the Eastern United States. The famous Appalachian Trail also runs through here on its meandering path from Georgia to Maine. We are a paradise for outdoor enthusiasts.
We are the Bed and Breakfast Capital of North Carolina
Web Site . Site Map . Links
Hosting and Promotion by Acorn Marketing